Improve conversions by 39%
Lead Conversion Automation - Convert Customers into Sales
Automations for lead prioritization and contact management so you have time to sell.
Conversions in AUTO PILOT
Our brilliant tool will help you do the conversions in auto pilot mode. We make it super easy to do your conversions. Automate customer interactions behind the scenes and give your team intuitive tools to help customers. You'll increase efficiency, and you'll be focused on the most qualified leads and the highest-value customer conversations
Lead Conversion

Automate Contact Management

Automate your CRM

Segmentation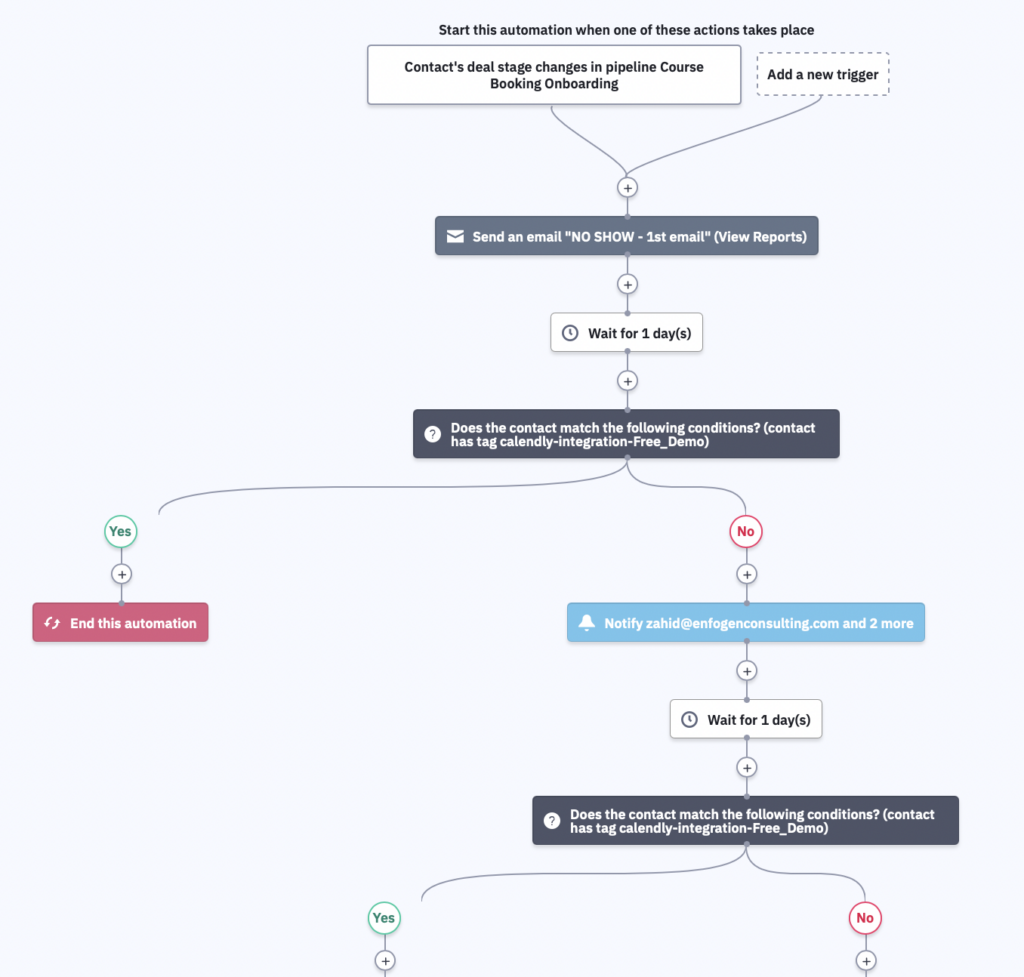 We will build your perfect sequencing to improve conversions by 39%
Create sequences at any stage of your conversion process. Add as many steps as you wish. Set up time delays in between them. Sit back and watch leads convert for you
Perhaps the most powerful capabilities of marketing automation are the ability to listen to your contacts, review their responses, and tailor your responses and messages accordingly. Automation at Enfogen is designed to automate your entire marketing process, as opposed to just focusing on outbound messaging.
Contact management - No sales contacts should slip through the cracks
Automated contact management lets you see your whole sales process at a glance. When you can automate task assignment and sales routing, your sales team is always on the same page. Track interaction at every stage of the sales cycle, and pick up where anyone else left off.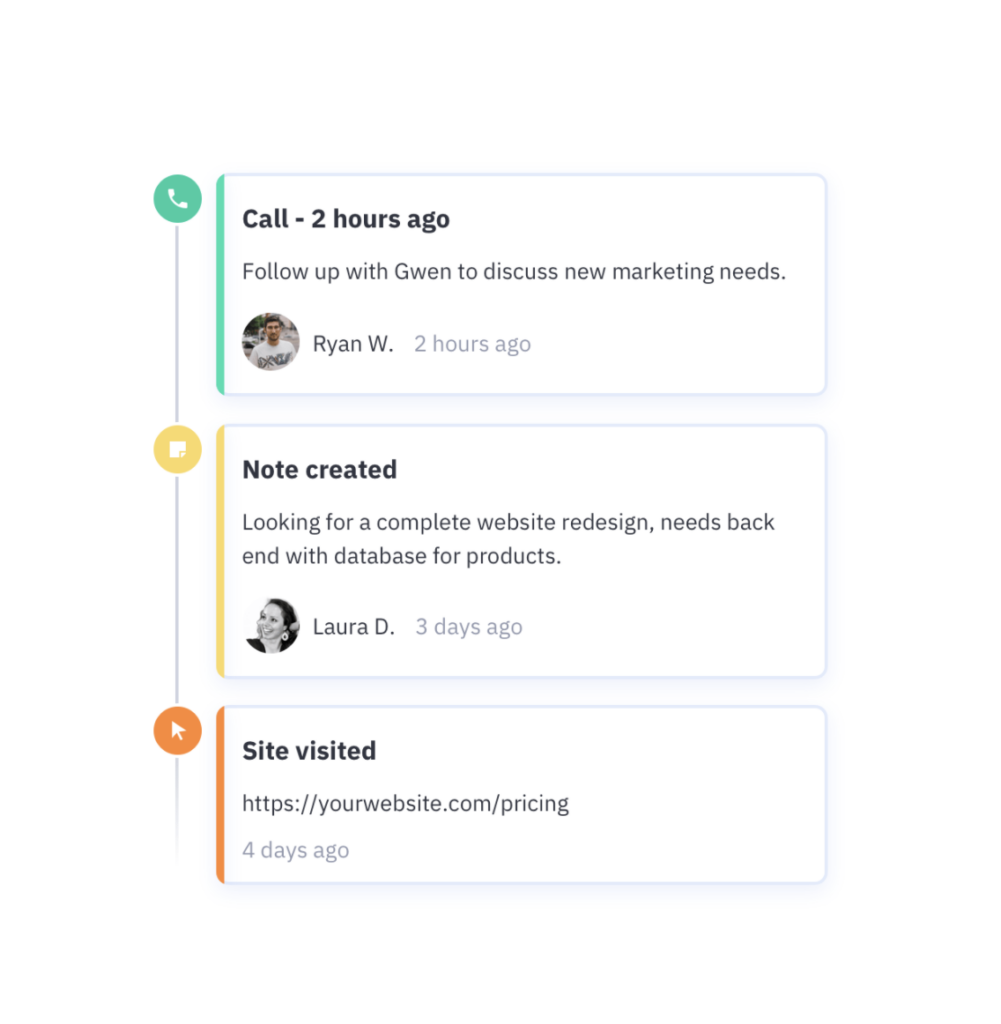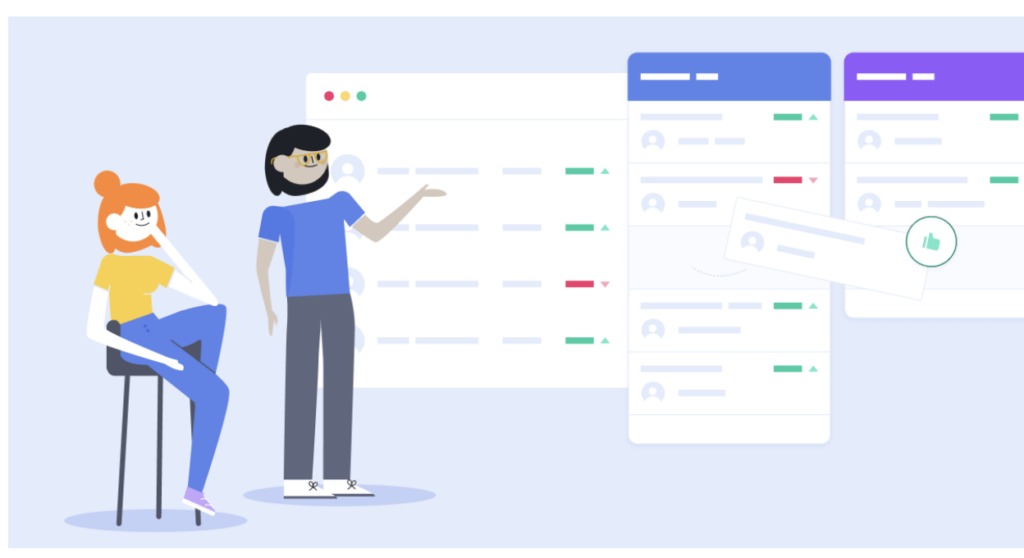 Plug and Play automations
Track your campaign performance through our detailed analytics. Are your contacts taking the specific actions you want them to? When you track "micro-conversions" like opens and link clicks, you can see where people fall out of your funnel—and pull them back in.
Dashboard overview of the individual campaigns performance. Detailed tracking of which campaigns are driving the best results.
Multiple Stage Visit Follow up
Build Sales Funnels with automatic conversions and understanding the buying behaviour
An even better indicator a deal is hot is when the deal is repeatedly interacting with your materials, especially your website. You can make the follow-up a snap with sales engagement automation!
This automation sends a personal email from your connected email address once a contact has visited your site a specified number of times, allowing you to naturally follow-up after they have shown repeated interest.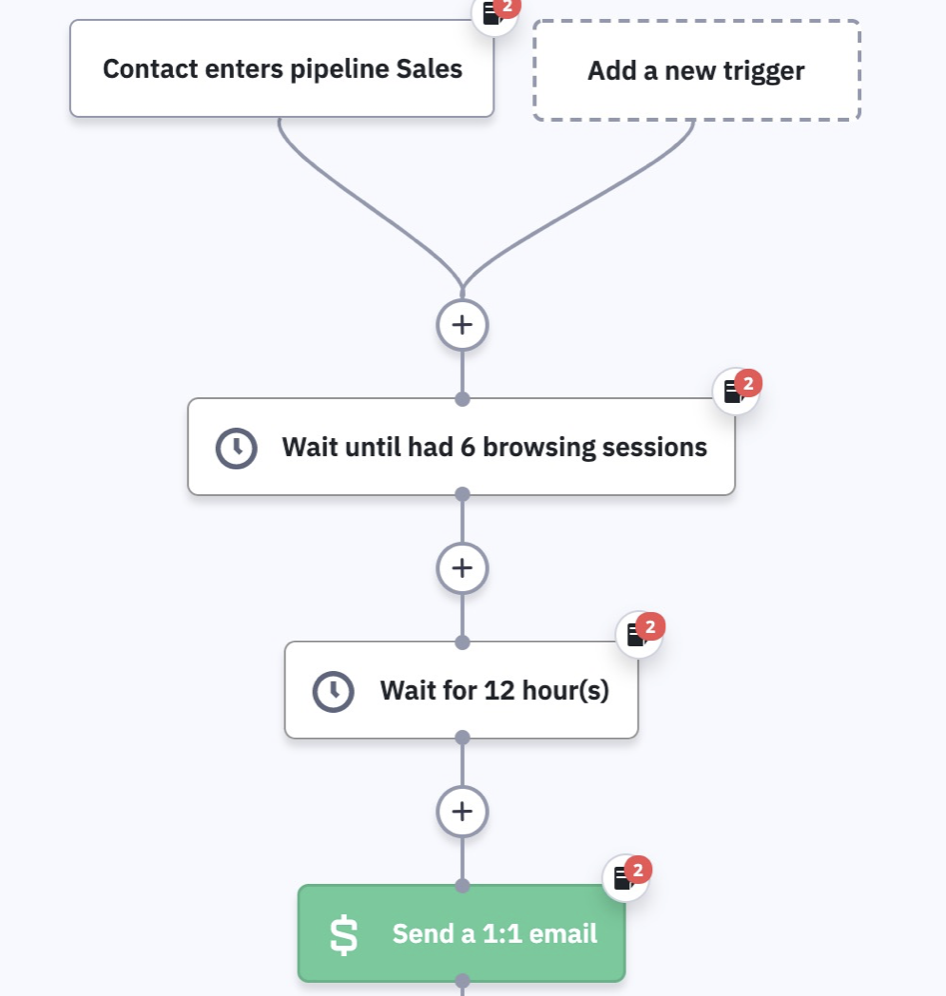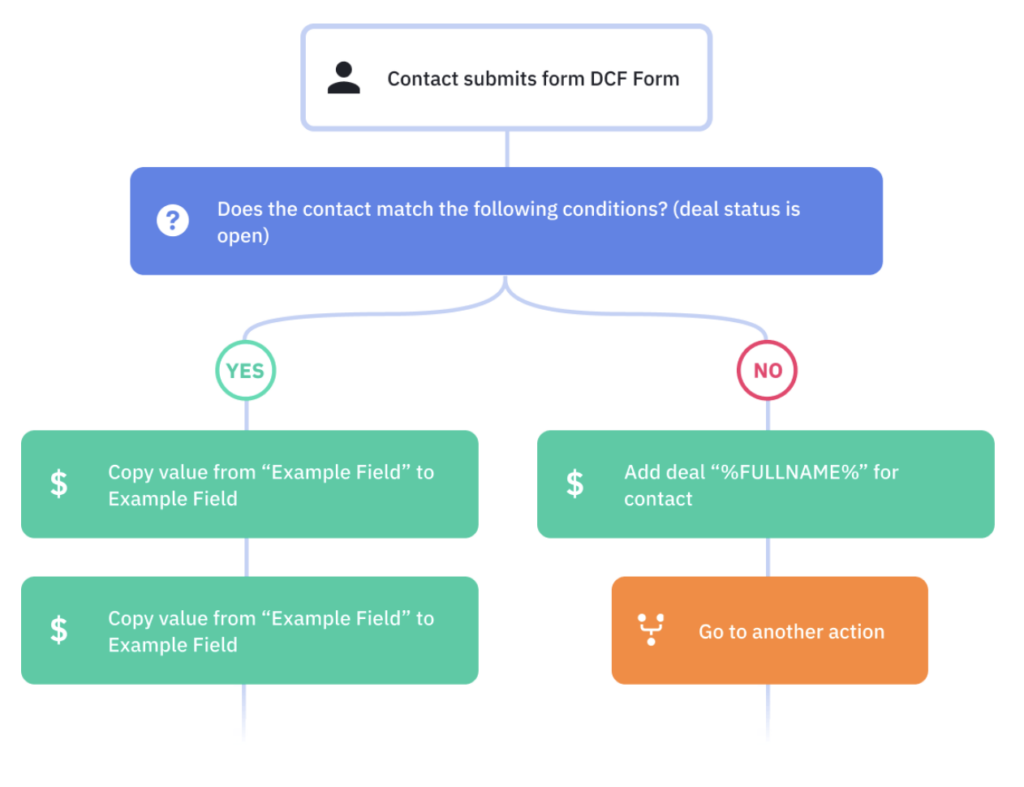 Create and update deals automatically
"Automating the flow of data into and out of your CRM can save you hours per week.
With sales automation, you can automatically:
Create a new deal when a lead fills out a form, downloads a lead magnet, or requests a demo

Update deal owners based on a lead's actions

Update a contact's custom fields

Move deals to a new stage

Mark a deal as won or lost

Update a deal's value

Nurture leads throughout the sales funnel
In a perfect world, you would have time to personally reach out to every lead who enters your pipeline.
For most sales teams — especially if you're trying to scale up quickly — that's not realistic.
You have to carefully balance the efficiency of automation with the knowledge that your leads probably prefer 1-to-1 communication. One strategy is to reach out personally to a new lead, and if they don't reply, enter them into an automated lead nurture email series.
As soon as the lead responds, you can automatically remove them from the automated sequence and get them in touch with a salesperson for a more personalized experience. This lets your sales team focus on engaged leads and rely on automation to warm up cold leads until they're sales-ready.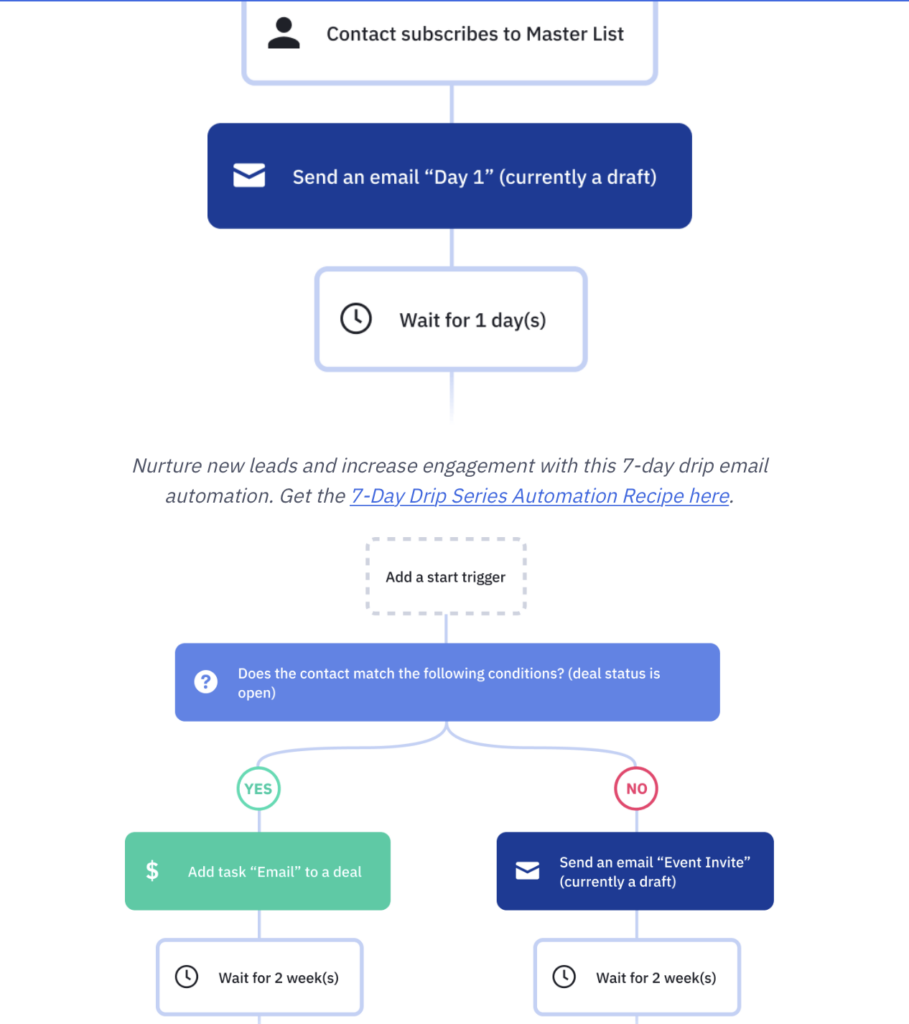 Automation to adjust Lead scores
Lead scoring lets you measure how engaged and qualified each lead is — without manually counting how many times they've answered your calls or replied to your emails. With automation, you can update scores based on calls, email engagement, and site activity, so you always know which leads are ready to talk to your team.
Lead scoring helps you focus on your most qualified leads. A good lead scoring model helps you prioritize leads based on:
How likely they are to close
How much they're likely to spend
How quickly they're likely to close
To set up a lead scoring system, you have to figure out what behaviors and characteristics matter. When a lead takes an action, what does that tell you about what they want? Based on those criteria, each lead gets a numerical score.
You can adjust a lead score based on almost any action a lead takes, including:
Any contact field (including custom fields)
Email behavior (opens, clicks, forwards, replies, unsubscribes, etc.)
Website behavior (pages visited, time on page, etc.)
Form submissions
Generate more leads by seeing which companies visit your site
Over 30,000 salespeople and marketers use the tool we use  to convert visitors into leads 
Our Deals Funnel Report will also provide you an overall view of your funnel, displaying how many deals are in each stage of the pipeline. This view includes percentages of deals won and lost, as well as the percentage of how many move to the next stage.
Find ready-to-buy sales leads

Beat competitors to the sale

Build better sales pitches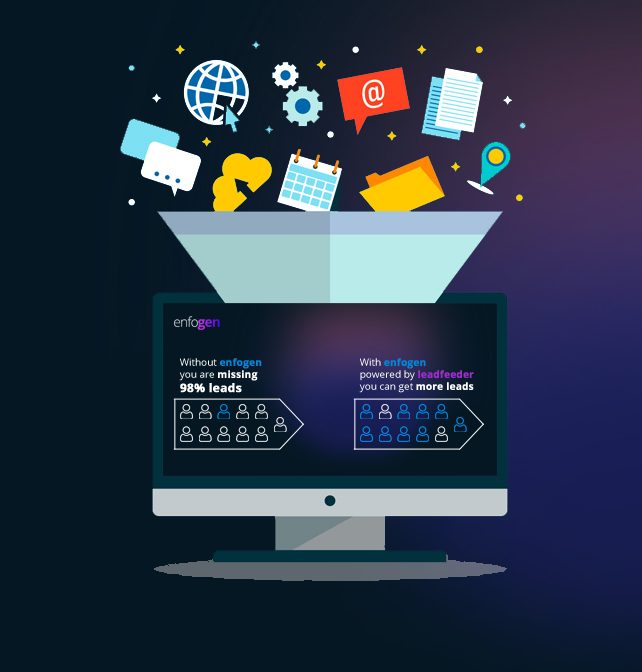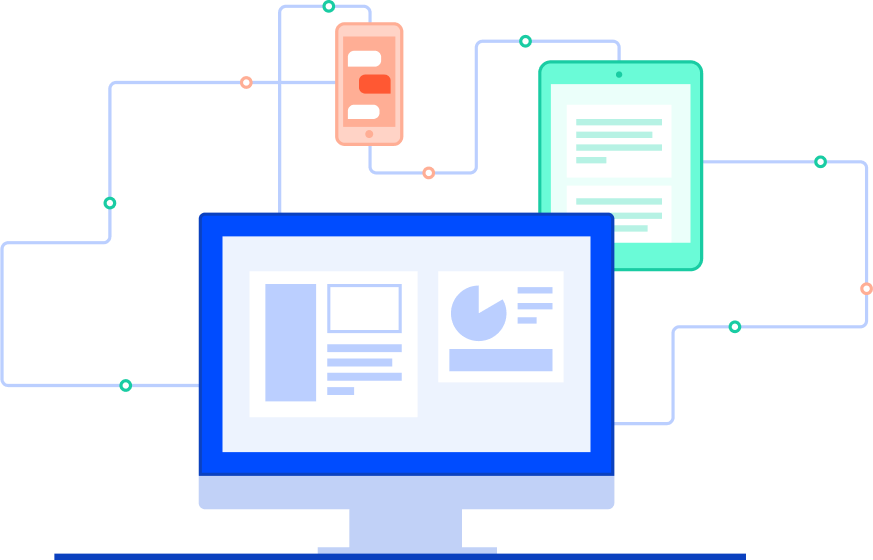 Find automation opportunities you never knew existed
When you can see your marketing at a glance, new opportunities practically jump off the screen. Find new ways to make entire sections of your business work together—from social media and SMS reminders, to sales and customer service.
How can goal tracking help you control your marketing?
When contacts take the actions you choose, move them to the right stage of your funnel.
See how long it takes contacts to move to the next stage of your funnel. Track the number of contacts that complete goals and the percentage that convert.
Target contacts who have achieved a goal—or the ones who haven't. Then notify your sales team or automatically follow up