Lead Generation with Automation
Use LinkedIn to Generate Leads in Auto Plot
With LinkedIn lead generation tools and LinkedIn outreach automation, you can generate more leads with less effort. You can count on obtaining more LinkedIn lead conversion with high-quality leads that help you grow your business.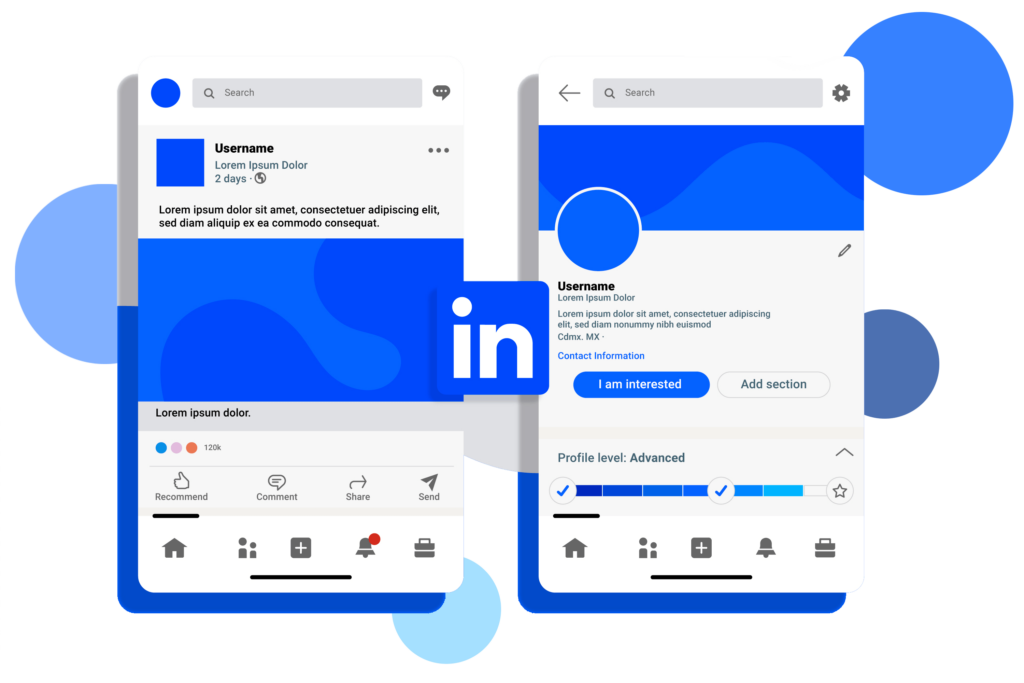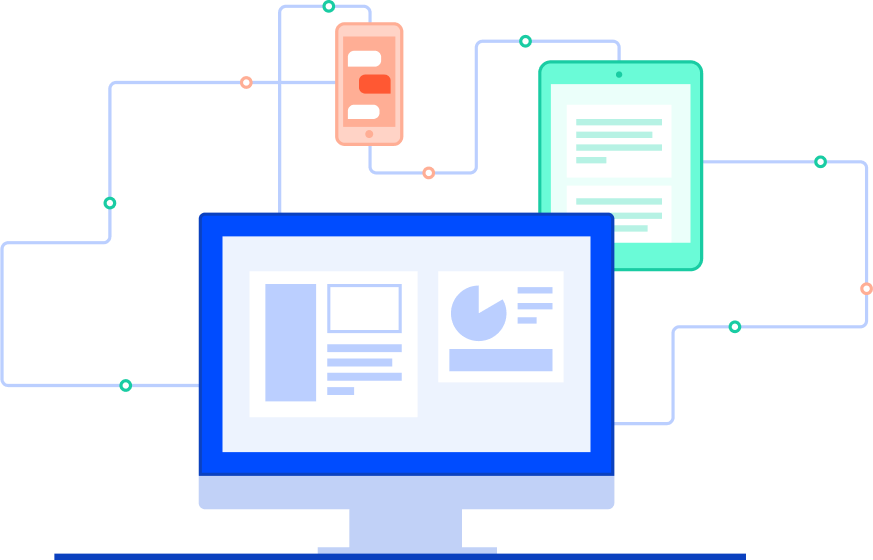 SaaS Based Outreach to generate leads for you
You could reach as many as 10 to 50 qualified leads with simple automated LinkedIn outreach. At Enfogen, we provide all the services you need for the most effective LinkedIn lead generation, including SAAS marketing automation and LinkedIn outreach automation. You can easily discover emails and send messages without manual operation, giving you an advantage over your competitors. We're making it easy to generate more qualified leads and convert more sales.
Outbound Lead generation campaign set in half hour

Start generating leads from next day

Save your time by 5 hours per sales person per day
Combine 7 different action in one sequence, define the delay time in between them and ad as many steps as you wish. Set up conditions in your sequence and create different outcomes based on your leads behaviour.
You can also tag each lead with statuses like 'Lead', 'Follow up' or 'Not Interested' etc. and take next action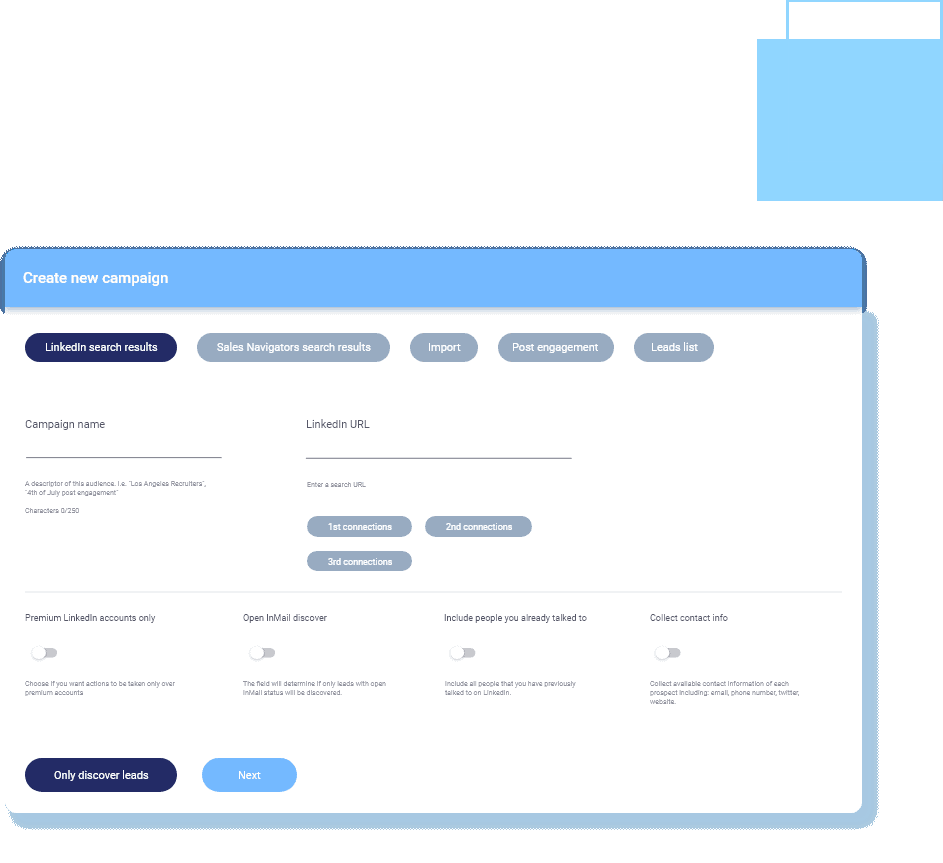 Your perfect drip campaign
Create sequences for your 1st, 2nd or 3rd-degree connections. Include highly personalized Invites to Connect, Messages, and InMails. Add as many steps as you wish. Set up time delays in between them. Sit back and watch leads come to you
We provide you with a dedicated IP address. Log in safely from any browser and manage your campaigns. Connect multiple LinkedIn profiles under one user account.
Beat your sales through Smart Inbox and CRM
Directly integrated with your LinkedIn and Email, our Smart Inbox let's you:
Communicate with your prospects in one place.

Create custom labels, keep track of your leads, and focus on the right ones.

Add specific notes for each lead and never forget details of your conversation.

Save your response templates for fast and easy replies.
Connect your LinkedIn Premium or Sales Navigator account and choose how you want to target your leads: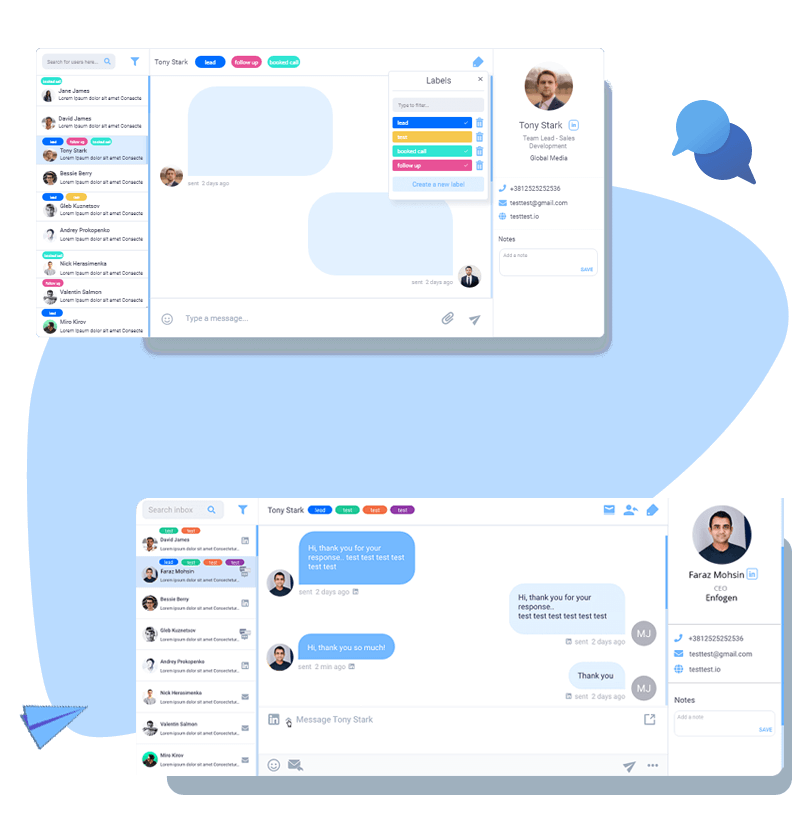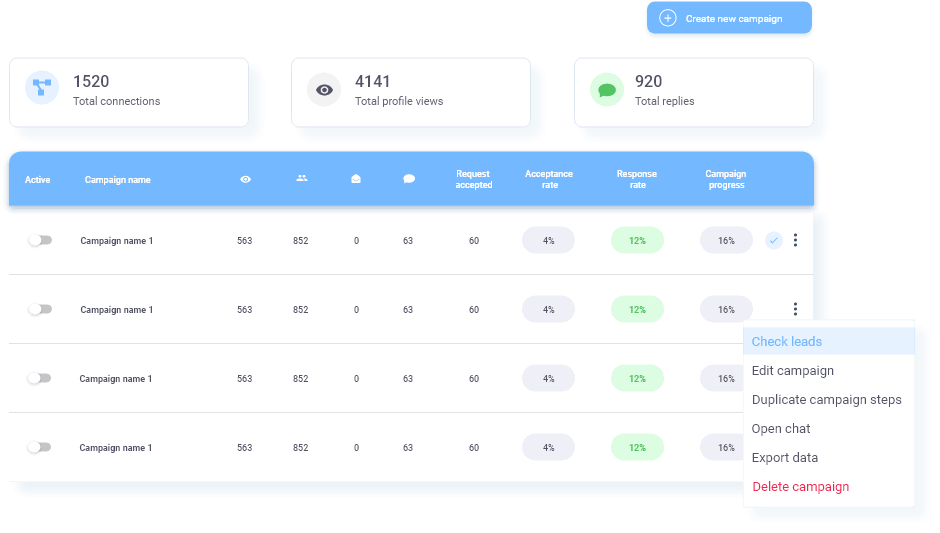 Track your campaign performance through our detailed analytics. 
Reporting on all the major activities of your LinkedIn account.
Dashboard overview of the individual campaigns performance. Detailed tracking of which campaigns are driving the best results.
How does LinkedIn help in lead generation?
When a LinkedIn member clicks on one of your ads that appears on their page, our automated system will automatically fill in the form, so they can get more information with less effort. This process also ensures you receive the most accurate information due to typing errors.
Is LinkedIn lead generation for B2B or B2C?
In general, LinkedIn is primarily a B2B network, though there are some opportunities for B2C connections as well. Lead generation will therefore primarily focus on B2B leads.
What are LinkedIn B2B lead generation services?
Our experienced team will help you generate more qualified leads for your marketing and sales activities without putting forth additional effort. We build an effective advertising campaign with fully automated tools that will gather information from qualified leads and help you move your sales process forward.
Build Sales Funnels rather website. Sales funnels based website guide your visitors through the step by step sales process
More than 90% of the cases visitors get LOST and confused and leave if the website is without a funnelling style 
Funnelling works on pointing your customers to the ONE product or service you think they need the most. Solve that problem and offer upsells later
Follow up even after they leave your page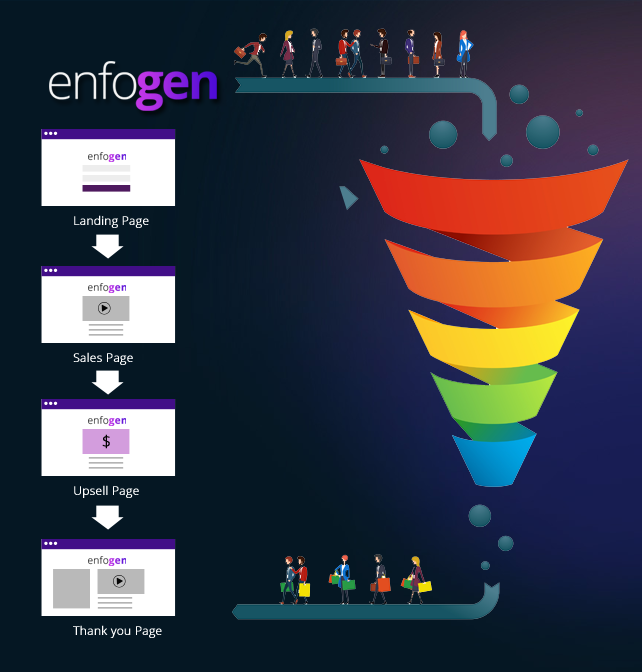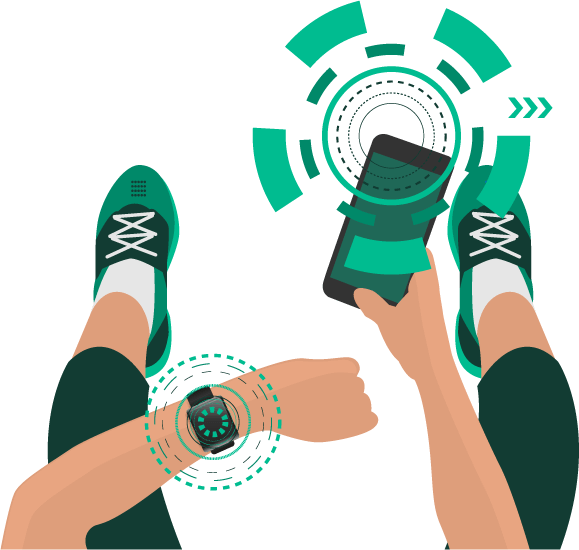 Verified Review at
10Ttech used our platform to generate significant qualified leads per month for LinkedIn and Email campaigns
Enfogen's LinkedIn lead generation skills are brilliant, their  team was able to gain great prospects for us – Geoff Head, CMO – 10ttech and we have been with them for over a year now.
It saved our time by 3 hours per sales person per day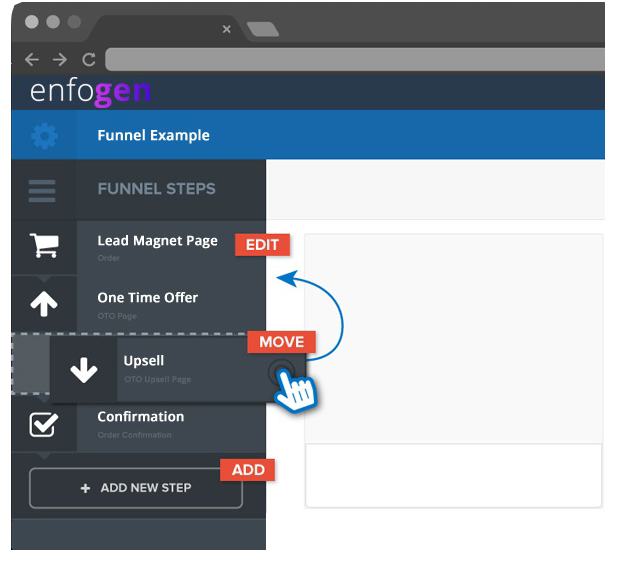 We will do your Funnel Hacking
"Funnel hacking is the process of strategically investigating the sales and marketing process of your competitors, which you can use to model and test within your own sales and marketing processes."
In other words, you'll actually participate in the various stages of your competitors' sales funnels, then reverse-engineer the process in order to determine how to go about creating your own.
"Enfogen is equipped with a perfect combination of technical know-how and excellent lead generation skills, it helped us improve our Sales by 35 % and eased my conversion automation significantly. I could not have imagined a better solution"
— Bernie Raffe, Founder and CEO- Become the better photographer
Verified Review at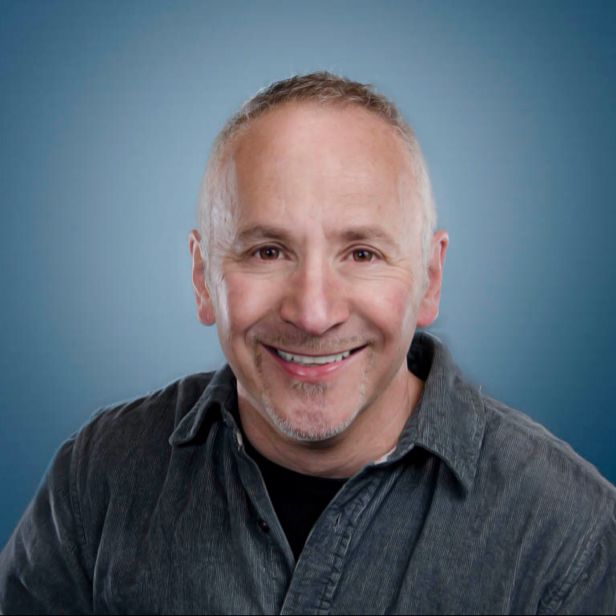 Email automations through right funneling
At each step on the funnel you can trigger email using custom logic, for example if a buyer visits the shopping page and does not complete the purchase you can trigger an email and follow ups. 
You can track your visitor at every step and never miss the opportunity to nurture your lead. 
Nurtured leads make 47% larger purchases than non-nurtured prospects.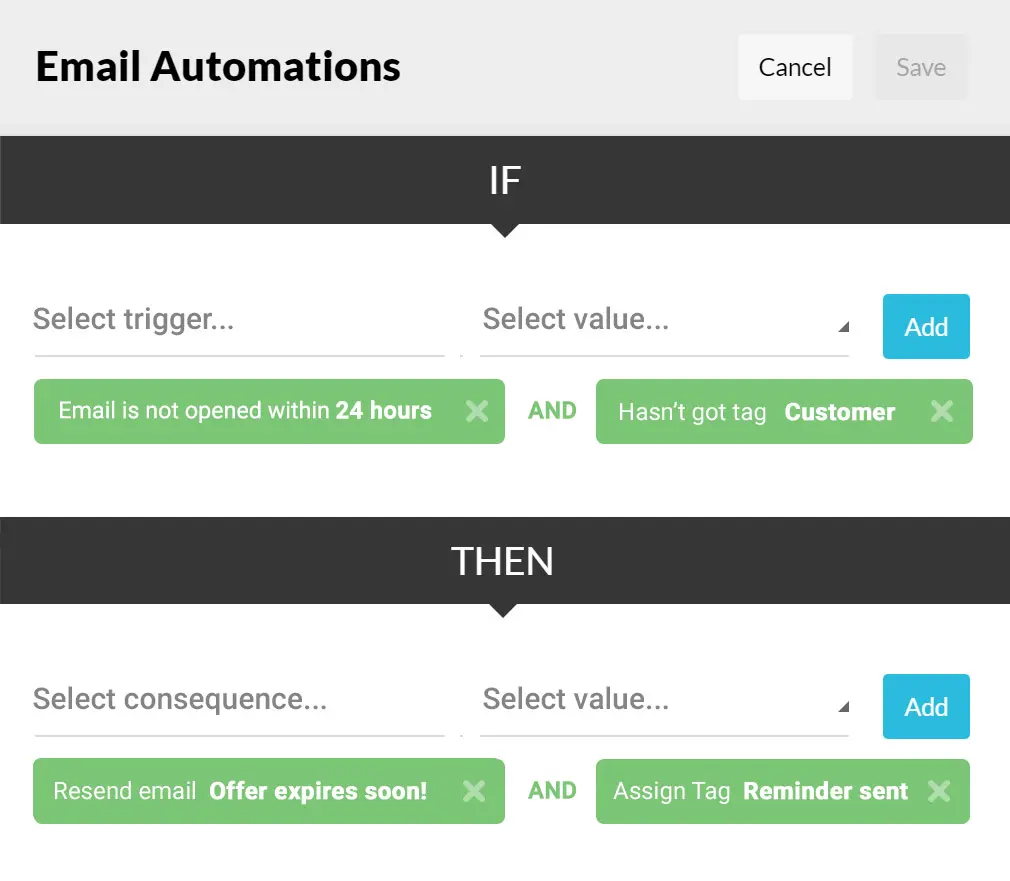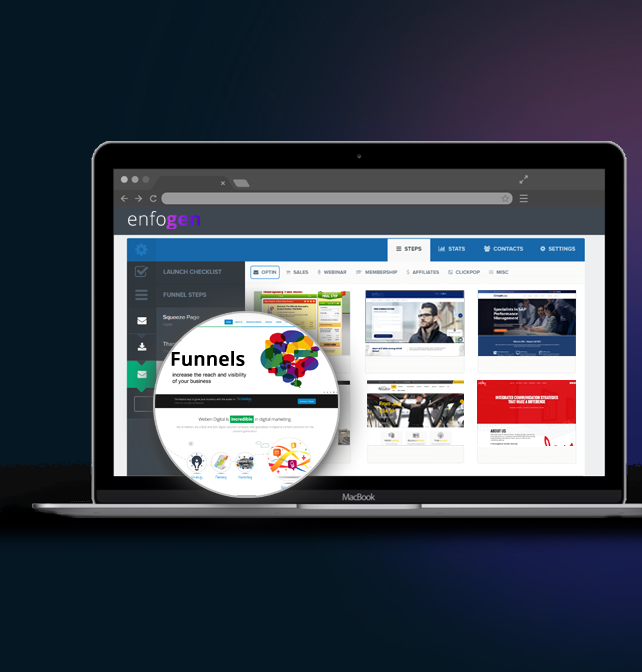 Different kind of Funnels
No matter how simple or complex, the fact is sales funnels work when they're built according to certain universal principles. Case in point:
87% of consumers

 

choose to do business with vendors who provide valuable content at all stages of the buying process
63% of consumers

 

need to hear a company's value proposition(s) 3-5 times before they trust these claims
Nurtured leads make

 

47% larger purchases

 

than non-nurtured prospects
In addition to top, middle, and bottom, sales funnels have traditionally been structured around four sales funnel stages known by the acronym
Source – Click Funnels 
When the prospect replies to your message, the sequence automatically stops. Continue the conversation manually or return the prospect to the campaign until you get the response you want.